A gamer and his headset - PART 1
Posted 4th February 2015 at 12:59 PM by
delushin
---
It has been far and few between my commitment to this blog and now it is time to get some things happening again. Of course that means I am going to talk about me and my new toy, my ModMic v4.0! As well as the journey of how I got there, so lets jump right in!
HEADSETS - What a load of crap!
There is no point in putting it any other way, especially when talking about the sales pitch of the decade ... The
"Gaming"
Headset ... not sure if that is the correct use of the old inverted comma there -let me know in the comments below.
Anyways ... its all started when my trusty Tritton 5.1 AX Pros started to die and coming close to over two (2) years of action I just thought, easy I will get a new set ... Well they don't make them anymore and I certainly am not paying ~$200 odd dollars for an "as new" set from eBay. Oh nooooo I ain't throwing that cash away, instead I want to pay more for a lower quality, over marketed headset that the pros use … because ummm,
THEY ARE PRO!
So my journey of betrayal, walks on the beach, high level financial discussions and critical factors around food placement … oh sorry … and so my journey towards a new headset began.
This might seem easy for some, you just go down to the local gaming store and pick one of the really cool headsets that the pro gamers use because that makes you more pro'er right? Not for me, I have a weird shaped right ear, super sensitive hearing and wear glasses. They need to be a perfect fit as to not result in ear fatigue during my 6+ hour gaming sessions, so of course what do we do? We hit up reviews, forums and start to watch youtube unboxings and impressions and all that jazz ... We get all of this great information that arms us with trusted knowledge to go out and drop a few hundred on an elite set of color blinking, smart phone connecting, omni up in and outside directional wall penetrating beast mode, xray vision pro gaming supported and recommended (with no marketing contracts) headsets.
Behold the ASTRO A50 Wireless Gaming Headset
Such a comfortable headset, it's almost like it was made for my exact head, just mine and no one else's.
The fit is perfect. It's a custom to when you rush into the fuel station at 22:00 HRS and quickly grab a pack of "erasers" obviously not having enough time to truly check if they are the right size because the fact that human beings HAVE SEX, is so embarrassing you need to hide what you are buying, and then OF ALL THE TIMES … just now the card decided to fail and the line behind you banks up for what seems like some thirty (30) deep in people specifically there to judge you as a bad person for your evil activities. Geezers do they even know that's what makes the ultimate water bomb, unbelievable the instant assumptions in today's world … sorry I digress ... but yea they fit!
The ASTRO A50s, coined one of the best gaming headsets on the market, used by pro gaming teams --- EVEN ON MARS! It is a wireless headset and sits around the $350 mark so for that price you must be buying top quality coupled with excellent customer service right?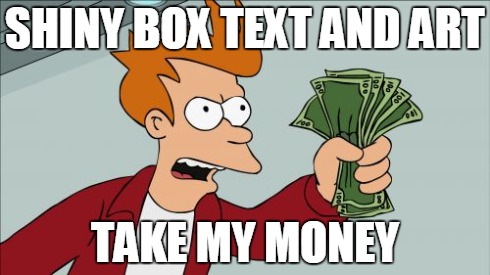 Specifically tuned for gaming so you can hear everything in
virtual
, or is it
true
… wait maybe it's
virtually true surround
sound goodness, well something like that anyway. Did I mention that the box has embossed writing on it with shiny stuff …
SHINNNYYY
STUFF!
I WANT TO BE PRO!
WRONG
- You will not find out about one of the worst design issues I have come across and then, you will, only after purchase and searching for this exact issue, discover the phenomenally naive support responses to the issue, but not one review mentions this … not out of the five (5) or so I watched, not one!
Oh but the issue, well that sir is by design –according to Astro Support. You see this is a known issue but according to Astro Support it is by design ...
"Hi <forum user> It's not a fault or an issue, its normal operation. It's like purchasing another product such as a Hi-Fi for example and complaining that the white noise it emits was not listed on the packaging - <Support>."
… and then the ultimate ...
"Hi <forum user> I can't speak for other headsets, only our own. As far as I'm aware, if you do hear a buzz in the right ear, it should be very, very faint and not noticeable so when you are gaming and audio is playing through your headset, you shouldn't be able to hear it at all - <Support>."
What is the issue you ask? The distinct buzz in the right ear cup when talking to someone over chat and sometimes but not all the time, when the mic is picking up sound but not enough to transmit it to others, but just enough to cause a buzzing / hiss for you. Don't worry though valued customer, we made it that way. Just turn up the game volume.
YEA BECAUSE WE ALWAYS CHAT TO PEOPLE WITH THE GAME VOLUME SO LOUD WE CAN'T HEAR THOSE WHO WE ARE CHATTING AND GAMING WITH!!! IS THIS A HEADSET FOR COMMUNICATION OR A HEADSET TO LISTEN TO GAME SOUND?
And it goes on back and forth a constant stream of customers buying this awesome headset only to hit the forums with an interference issue, to be then told turn up your game sound as the buzz is normal operation, for a $350 headset, the buzz is an extra add on free and supported by Astro, just for you … because we love you!
You do know that the pros use these headsets right???
Well you can get rid of the buzz by not plugging the USB connector into the PC or Console and instead plugging it into an external power source, because the USB is for power
… and oh wait … the microphone as well,
so you can eliminate the buzz but no voice chat for you? Yea "normal operation" … This really annoyed the crap out of me, just purely due to the disregard for an issue that many customers were having, so I started to trouble shoot this thing for around two (2) days.
Who doesn't like a little troubleshooting? Windows drivers pre Win7 anyone? Wait that still sucks, anyways back to the story.
Being a PC gamer I am use to buying hardware and then pumping hours into making it work how I want, or dealing with my specific and somewhat unique issue with limited to no support. It's part of the fun! I really enjoy it despite having to on occasion explain to the wife why we need a new window in the study, followed up by an additional veterinarian bill from the neighbor because …
GET THIS
… SOME HOW my 25 kilogram power house of a rig landed on the next door neighbors cat resulting in the perfect opportunity to idolise the very loyal animal for life as a new hat … maybe, babe! Just maybe computers are so advanced now and sick of cat videos that they are launching a counter cat-attack?
<start disclaimer> No animals were harmed during the writing of this blog, or have ever been harmed by my computer, my computer does not have legs and it is not possible for it to have squashed that cat – for those interweb trolls out there who might try and shut me down <end disclaimer>
Well that is if for now before I work myself up, find out about what I (through others, but will claims as mine) discovered on this adventure of love, hate, strawberry wipped cream with tassles … oh that's my other blog. I mean find out what I shooted and troubled … coming soon!
- Please note this is written from a personal view and is not intended to invoke blood rage for those who disagree or are technically able to explain things better than me, you are great, all of you. This is just a good old story of MY experience.
Comments