Chronicling the Schizophrenic ramblings of an individual too freaking stubborn to use emulators and has a passionate desire to collect and play all sorts of retro games and consoles.
Retro Console Collecting - Part II (The Setup)
Posted 5th November 2010 at 08:07 AM by
Schizo
---
Hello everyone, and welcome back to yet another edition of Schizo's Retro Console Collecting (now with 50% more nudity!).
Since I got all the background info out of the way in my first installment (
which can be read here, if you missed it
- and yes, this is a shameless plug), I figured the next step would be to show you the current setup I have.
When I moved into the house, my girlfriend had an entertainment center she was no longer using. Well, it fit just perfectly in a nice alcove in the room.
For the television, I wanted one of the last great analog televisions made. Why not a new fancy HDTV you ask? Well, there are a few inherent problems with this:
All new digital sets have to take the incoming analog signal and convert it to a digital format. This leads to some loss in the image, and it is not accurately reproduced
They're just too darn good at producing the images! Think back to the televisions we used to play these old systems on. They weren't as sharp, and so rough-edged sprites were softened and rounded a bit more. Modern televisions will give the sprites a harder and crisper edge to them.
Most obvious - all new televisions now are in a 16:9 widescreen format, and the older games were meant for 4:3 aspect ratio televisions! You either have to deal with black bars on the sides of the screen (distracting), or stretch the image to fit the screen (ugly).
So I managed to score an awesome deal on Craigslist. A flat-screen 24" Sony tube television (the KV-24FS120 if you really want to get technical) that I picked up for $30. What a steal! This television has RF, Composite, S-Video, and even Component hookups (though the maximum resolution it can display in is only 480i), so I have plenty of options for hooking up all my gear.
So enough walls of text, here is what you all came here to see...GRATUITOUS NUDITY!
(note: I have been since informed by Management that I am no longer allowed to expose myself in this blog. Or threaten to expose myself. Or use the word nudity as it pertains to me in any way shape or form. In fact, I am never allowed to take my clothes off again. Ever.)
Ok, with that out of the way, here are some shots of my setup: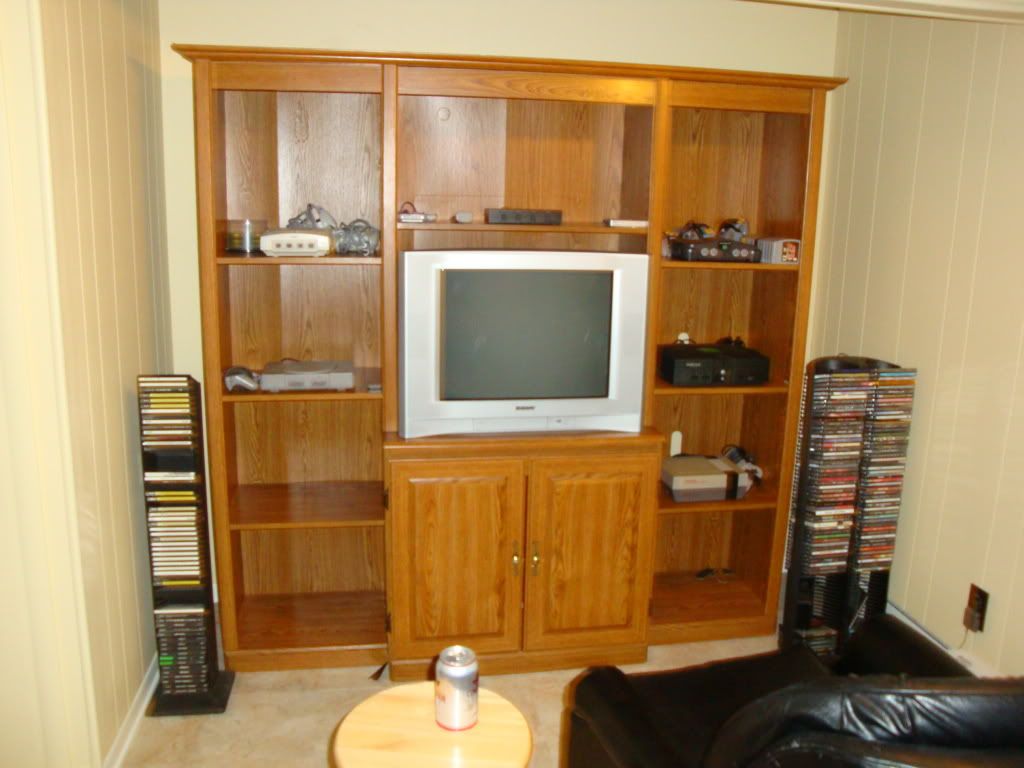 Yes, I know there are some empty shelves in there. Like I said, this is a collection in progress, and I want room to expand. There are even 2 more shelves to the unit I've yet to put in, so I'll have plenty of room for expansion!
Next, a little zoom in for ya. My Dreamcast (with a large spindle of...um, backups) and my original Playstation:
On the other side, we have the N64, the Xbox, and the NES: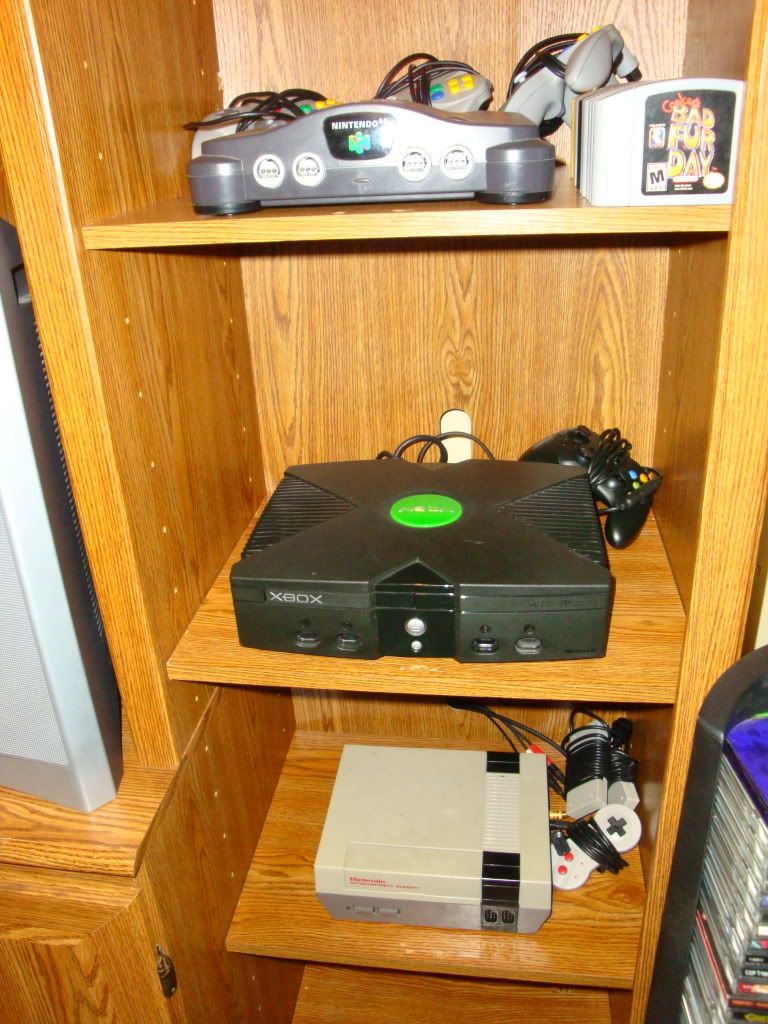 Above the television, I have my switchbox for the inputs (already ran out of room on that and I need another one). When possible, I connect each system using the best possible video input available, which in most cases is S-Video for older systems. Also of note, I have my Nintendo DS Lite up there, as well as a GBA, and the GBA-Gamecube adapter (why the hell did I ever waste good money for that? I think I used it to play Final Fantasy Crystal Chronicles once).
So you're probably wondering, "Why do we drive on parkways, and park in driveways?" To which, I would counter with, "If you were driving your car at the speed of light, what would happen if you turned on your headlights?"
Deep, deep thoughts.
But anyway, what you should be wondering is where I put the games. Well I'm glad you asked! On the back wall, there are bookshelves set up. I've put all my PS2, PS3, Gamecube, DS, and Xbox games up there already. I plan on putting the remainder up there once I get a chance.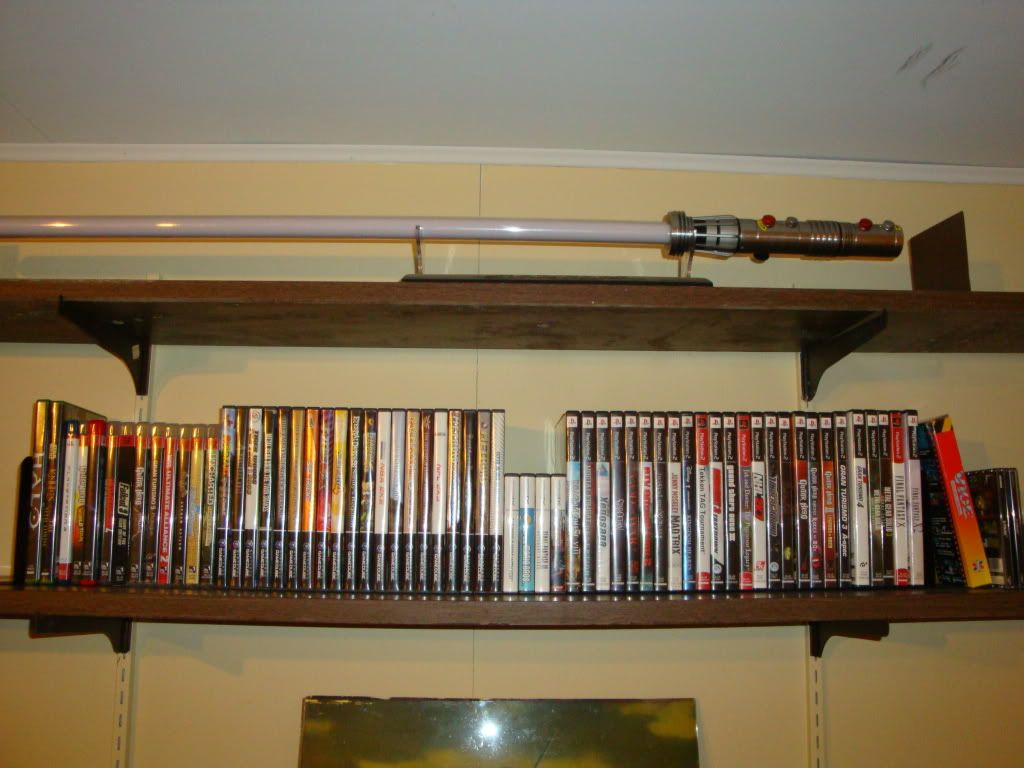 With just one exception
Back in 4th grade, I made a box in shop class for my NES games. For nostalgia's sake, I still keep my NES carts in this box: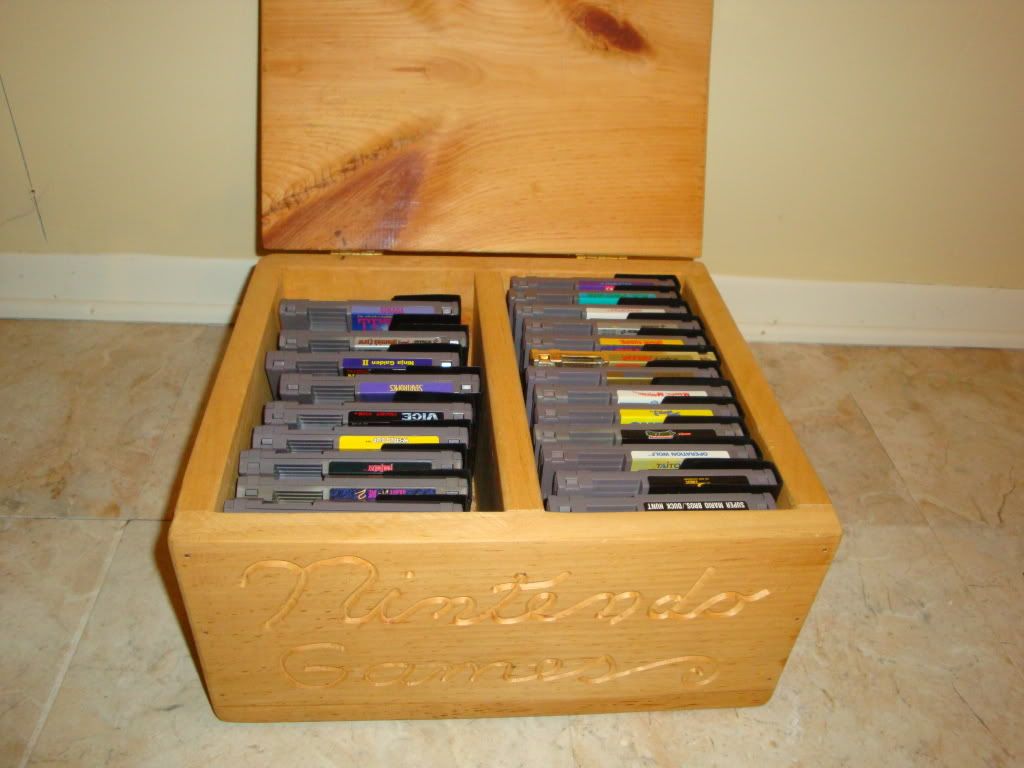 Finally, I'll leave you with two of my favorite things:
Pirates and Wenches
Gaming and Drinking...which usually leads to a lot of curse words strung together with no coherent meaning whatsoever.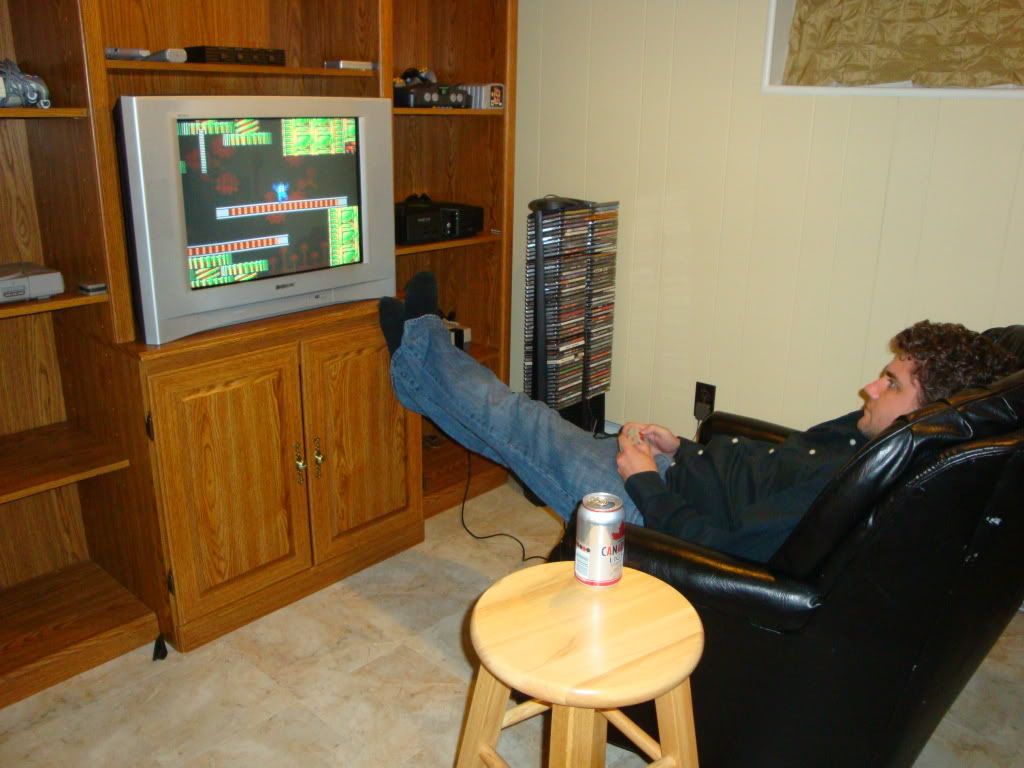 Stay thirsty my friends!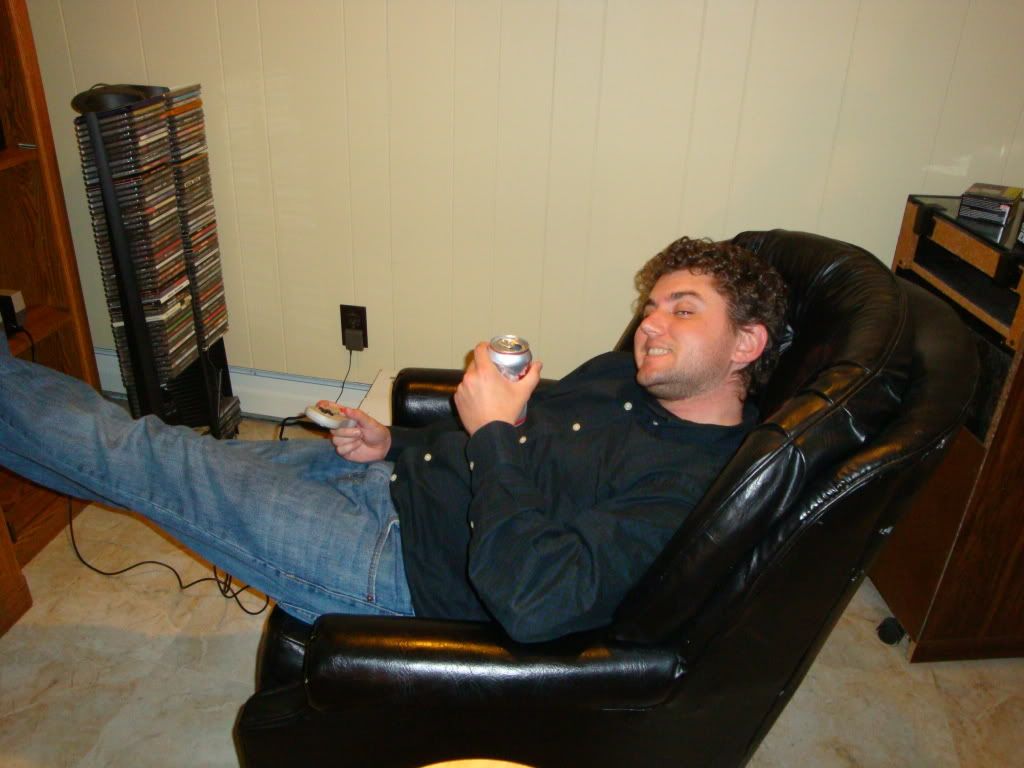 Come back for Part III where I'll discuss the current crop of games I have, and the process by which I am selecting new games and consoles to add to the collection, and maybe sneak in some of that sweet, sweet gratuitous nudity
Comments