Apple iMac Desktop Mid 2011 Review
The Good
*Attractive, sleek, and solid industrial design. *Quality IPS Backlit LED Display Panel *Firewire 800 and Intel Thunderbolt technology as standard *App Store built into the O/S *Modern operating system *Competitive pricing
The Bad
*Limits to the expansion / upgrade of system due to all in one design *No Blu Ray Drive *Screen might be to glossy for some users *SD Card slot and DVD slot very close together *SSD Hard Drives through Apple cost a small fortune
Apple iMac Desktop Mid 2011 Review
Submitted by Binary-Ninja
iMac System Configuration 21.5 " or the 27"
Mac Operating System
Mac OS X 10.6.7 Snow Leopard
Mac OS X 10.7 Lion due for release in July through the App Store



Grand Central Dispatch is supported.
Full 64-bit operation is supported.
OpenCL is supported.
Quicktime X
Safari 4
Mail has Microsoft Exchange support
Core System
CPU, 21.5": 2.5 or 2.7 GHz quad-core Intel Core i5, 2.8 GHz i7 option ($200 additional)
CPU, 27": 2.7 or 3.1 GHz quad-core Intel Core i5, 3.4 GHz i7 option ($200 additional)
L2 cache: 6 MB shared cache on CPU
bus: 1333 MHz
RAM: 4 GB, expandable to 16 GB (32 GB for 27" model) using four 1333 MHz DDR3 SDRAM
performance:



Speedmark 6.5: 215 (2.5 GHz 21.5"), 223 (2.7 GHz 21.5"), 222 (2.7 GHz 27"), 227 (3.1 GHz 27")
Geekbench 6.5: 7185 (2.5 GHz 21.5"), 7926 (2.7 GHz 21.5"), 7863 (2.7 GHz 27"), 8428 (3.1 GHz 27"), 11692 (3.4 GHz 27" i7)
Video Card / IPS Display
GPU, 21.5" 2.5 GHz: AMD Radeon HD 6750M with 512 MB dedicated VRAM
GPU, 21.5" 2.7 GHz: AMD Radeon HD 6770M with 512 MB dedicated VRAM
GPU, 27" 2.7 GHz: AMD Radeon HD 6770M with 512 MB dedicated VRAM
GPU, 27" 3.1 GHz: AMD Radeon HD 6970M with 1 GB dedicated VRAM (2 GB build-to-order option)
IPS LED Screen: Resolution



21.5" 1920 x 1080 LED backlit ips flat panel display
27" 2560 x 1440 LED backlit ips flat panel display

video out: Mini DisplayPort, DVI and VGA with optional adapters
Drives
drive bus: SATA 3 Gbps (6 Gbps with EFI update)
SSD: 256 GB build-to-order option, can be installed in addition to hard drive
hard drive: 500 GB/1 TB 7200 rpm Serial ATA drive, 2 TB option
SuperDrive: writes DVD±R, DVD+R, and DVD+RW discs at up to 8x speed, DVD-RW at up to 6x; dual layer at up to 4x; reads DVDs at up to 8x, writes CD-R discs at up to 24x, writes CD-RW discs at up to 16x, reads CDs at up to 24x
Expansion
Thunderbolt: 1 port on 21.5" iMac, 2 on 27" version
USB: 4 USB 2.0 ports
FireWire 400: none
FireWire 800: 1 port, 7 Watts
Ethernet: 10/100/gigabit
WiFi: 802.11n AirPort Extreme built in, three antennas support up to 450 Mbps bandwidth
Bluetooth 2.1: included
IR receiver: supports Apple Remote (not included)
SD Card: 1 slot, supports SDXC
Microphone: internal
Facetime and Internet based 720p HD Web Cam
Both versions of the iMac will be coming with Apple's Wireless Keyboard and Magic Mouse along with software which includes iTunes, Time Machine, Quick Look, Spaces, Spotlight, Dashboard, Mail, iChat, Safari, Address Book, QuickTime, iCal, DVD Player, Photo Booth, Front Row, Xcode Developer Tools, iPhoto, iMovie, GarageBand, iWeb, App Store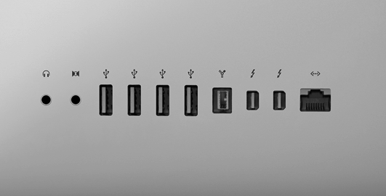 Physical Dimensions

H x W x D (21.5"): 17.75 x 20.8 x 7.42 in/45.1 x 52.8 x 18.85 cm
H x W x D (27"): 20.4 x 25.6 x 8.15 in/51.7 x 65.0 x 20.7 cm
weight (21.5"): 20.5 lb/9.3 kg
weight (27"): 30.5 lb/13.8 kg
power: 241W (21.5"), 365W (27")
Upgrades
Ram upgrades to 16gb and 32gb
Video Card Ram Upgrade to 2gb ATi Radeon HD 6970
SSD Hard Drive Options 128gb or 256gb
Mac OSX 10.7 Lion (Releasing July)
System Overview
With a fast new Intel second-generation Core i5 CPU, a high-end ATi 3D card and support for promising Thunderbolt high-bandwidth peripheral connection ports, the new highest-end iMac has plenty to offer the media professional or the high end enthusiasts but alongside them are also your normal user and even a gamer or two. While still laying claims to the industry best in terms of its display and its overall design it is still a green friendly machine.
While the new iMac's design hasn't changed on the outside, its internal components have been completely revamped. As it upgraded its MacBook Pro laptops earlier this year, Apple has included Intel's second-generation Core CPU family (formerly code-named Sandy Bridge). It has also added AMD's latest generation of graphics processor, the Radeon HD 6000 series. Lovers of the iPhone will appreciate that Apple has brought FaceTime support to the new iMac, which allows for cross-device video chatting over the internet.
Apple has also incorporated the new Thunderbolt port into the mid 2011 revision iMac, with two on the back replacing the single Mini-DisplayPort input found on older iMacs. Developed in conjunction with Intel, Thunderbolt is designed to replace USB and FireWire inputs by offering simultaneous 10Gbps throughput both in and out of the system via the same port. The standard supports both data and video connections, and also allows for a greater, more powerful variety of external components.
This current version of the iMac has really taken up the challenge to the humble PC and in all areas including gaming , while it has been long thought that MAC 's and games don't mix this latest version from Apple sure puts a end to those theories as it is proving to be a very capable gaming machine both natively in OSX and under bootcamp running Windows 7 and while they used to be a premium machine the cost of the equivalent PC and a similar screen will set you back the same , as a comparison the DELL 27" Ultrasharp Screen (screen only) is $1000 so all in all very reasonable.
System Benchmarks
Benchmarks conducted by Barefeats and Otherworld Computing Test Labs shows just how far they have come in the last few revisions of the iMac and how they stack up in real world testing
Cinebench uses all of your system's processing power to render a photo realistic 3D scene that makes use of various algorithms to stress all available processor cores. (Higher numbers are better. RED bar indicates the fastest iMac.)
Geekbench measures your processor and memory performance. The Integer, Floating Point, and Memory ratings are averaged to produce an overall rating. (Higher numbers are better. RED bar indicates the fastest iMac.)
LuxMark is a relatively new OpenCL benchmark tool. It lets you use the CPU only or GPU only or a combination of the two to render the test scene. (Higher numbers are better. RED bar indicates the fastest iMac.)
Steam Portal FIrst Slice (demo) was run with these settings: Model Detail = High, Texture Detail = High, Shader Detail = High Water Detail = Reflect All, Shadow Detail = High, Color Correction = Enabled, Antialiasing Mode = none, Filtering Mode = Anisotropy 4X Vertical Sync = Disabled, Motion Blur = Enabled. (Higher numbers are better. RED bar indicates the fastest iMac.)
OPENGL EXTENSIONS VIEWER
OpenGL Extensions Viewerwas tested with 4x MSAA, 8x Aniso, Fog, Transparency. The graph shows the results for the OpenGL 2.1 Extension. (Higher numbers are better. RED bar indicates the fastest iMac.)
GRAPH LEGEND
Mac Pro 3.33 w6 = 'mid 2010' Mac Pro 3.33GHz 6-Core Westmere with Radeon HD 5870 (1G GDDR5)
iMac 3.4 i7 = 'mid 2011' iMac 3.4GHz Core i7 with Radeon HD 6970M (2G GDDR5)
iMac 3.1 i5 = 'mid 2011' iMac 3.1GHz Core i5 with Radeon HD 6970M (1G GDDR5)
iMac 2.93 i7 = 'mid 2010' iMac 2.93GHz Core i7 with Radeon HD 5750 (1G GDDR5)
iMac 2.7 i5 = 'mid 2011' iMac 2.7GHz Core i5 with Radeon HD 6770M (512M GDDR5)
iMac 2.5 i5 = 'mid 2011' iMac 2.5GHz Core i5 with Radeon HD 6750M (512M GDDR5)
Other tests conducted by Anandtech show it is no slouch in performance either these test include Photoshop CS4 , Video encoding in QuickTime..
Adobe Photoshop CS4 Performance
The Retouch Artists Speed Test we use for our CPU testing under Windows also works under OS X. We're running the exact same benchmark here, basically performing a bunch of image manipulations and filters and timing the entire process.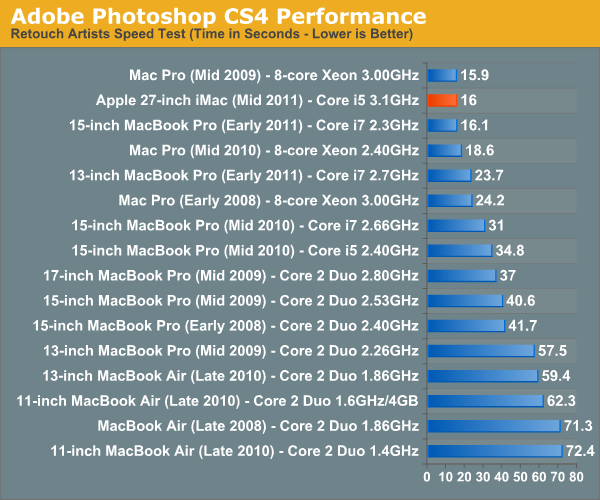 The high-end 27-inch iMac is a very capable Photoshop machine. A hair faster than the new MacBook Pro, the iMac delivers the same performance as an 8-core Mac Pro from 2009 or 2010.
Aperture 2 RAW Import
For my Aperture test I simply timed how long it took to import 203 12MP RAW images into the library.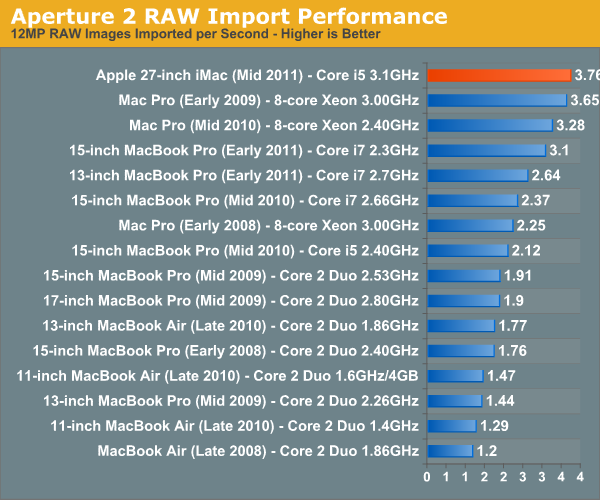 We have a new winner here! The MacBook Pros were always limited by their slower 2.5" hard drive, but the iMac with Sandy Bridge in additional to a speedier disk give us better image import performance than the '09 and '10 Mac Pros. I told you this thing was fast.
Cinebench R10 & 11.5
I'm a fan of the Cinebench tests because they lets me show off both single and multithreaded performance in the same workload. First, the single threaded performance: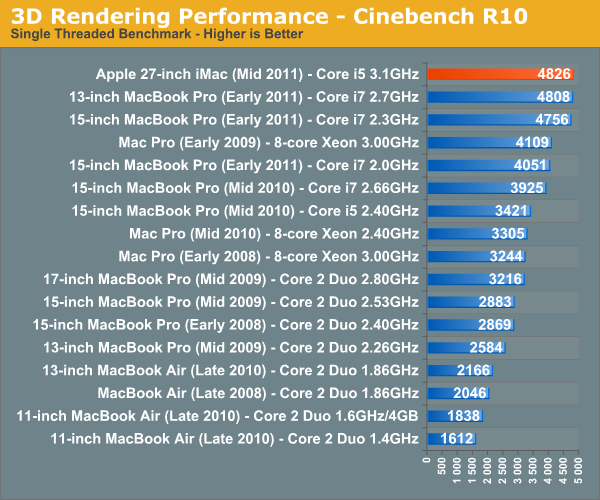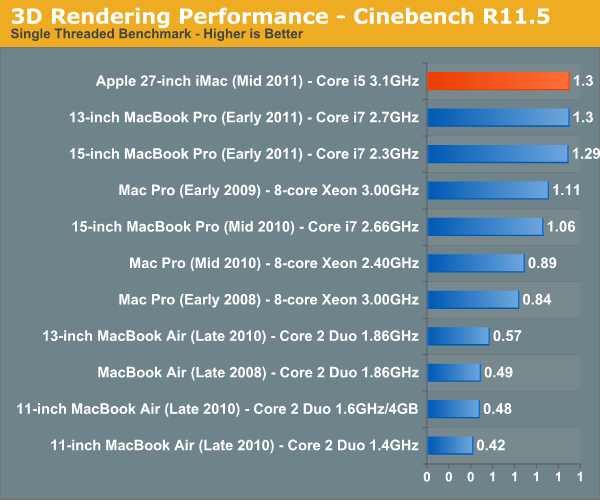 Sandy Bridge quad-core CPUs make no sacrifices. You get excellent single threaded performance which means general OS usage, launching applications and even rendering most web pages happens as fast as physically possible as the other cores are power gated and asleep. Start multitasking however and you'll see the Core i5 in this machine is no slouch: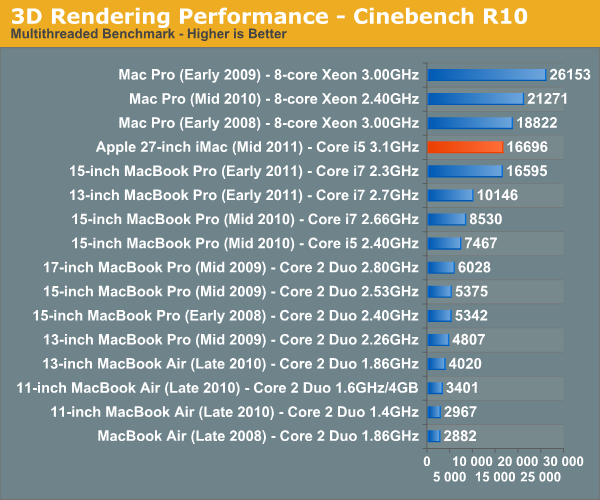 There's still no replacement for more cores when it comes to heavily threaded applications, the past three years of 8-core Mac Pros are still faster than the new 27-inch iMac here. I suspect the upgraded Core i7 would at least let the iMac beat the 2008 Mac Pro thanks to Hyper Threading, but the other two systems are simply out of reach. For those users, you're better off waiting for the Sandy Bridge-E Mac Pro update expected sometime in Q4.
You'll notice in Cinebench R10 the 15-inch MacBook Pro is nipping at the heels of the new iMac. Chalk that up to the larger L3 cache and Hyper Threading, both advantages enjoyed by the MacBook Pro. Look at what those advantages do in Cinebench R11.5's multithreaded test: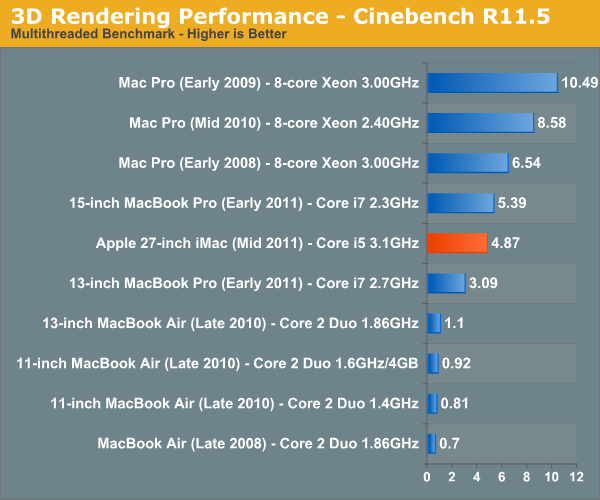 Here the MacBook Pro actually gains on the iMac. More threads and more cache are better suited for the Cinebench workload. If you do a lot of offline 3D rendering and you want the iMac, I'd suggest upgrading to the Core i7-2600 that Apple offers. You get a not insignificant boost in clock speed but more importantly, Intel switches on Hyper Threading which gives you twice as many threads.
Quicktime H.264 Video Encoding
Our final benchmark is more consumer focused. Here I'm taking an XviD and converting it to an iPhone-supported H.264 format.
QuickTime doesn't make tremendous use of all cores all of the time, and thus the MacBook Pro loses its threading advantage. The iMac is our new champion of this test.
Gaming Benchmarks
Barefeats again has put the latest revision iMacs through their paces in the games arena and they performed quiet well ... Just bear in mind if you choose a 27" screen iMac the native resolution of 2560 x 1440 will cause a few games to struggle but if you drop it down a notch like most other screens are it still looks very nice and performs very well… The HD 6970 will also be the card of choice for the gamers but the other cards in the 21.5 inch models perform quiet adequately for what they are.
All game tests were run at max settings with highest details possible to stress the GFX card as much as possible
GRAPH LEGEND
Mac Pro 3.3 R5870 = 'mid 2010' Mac Pro 3.33GHz 6-Core Westmere with Radeon HD 5870 (1G)
Mac Pro 2.9 R5870 = 'early 2009' Mac Pro 2.93GHz 8-core Nehalem with Radeon HD 5870 (1G)
iMac 3.4 R6970 = 'mid 2011' iMac 3.4GHz Core i7 with Radeon HD 6970M (2G)
iMac 3.1 R6970 = 'mid 2011' iMac 3.1GHz Core i5 with Radeon HD 6970M (1G)
iMac 2.9 R5750 = 'mid 2010' iMac 2.93GHz Core i7 with Radeon HD 5750 (1G)
iMac 2.7 R6770 = 'mid 2011' iMac 2.7GHz Core i5 with Radeon HD 6770M (512M)
iMac 2.5 R6750 = 'mid 2011' iMac 2.5GHz Core i5 with Radeon HD 6750M (512M)
Mac Pro 2.9 R5770 = 'early 2009' Mac Pro 2.93GHz 8-core Nehalem with Radeon HD 5770 (1G)
Mac Pro 2.9 R4870 = 'early 2009' Mac Pro 2.93GHz 8-core Nehalem with Radeon HD 4870 (512M)
MBP 2.3 R6750 = 'early 2011' MacBook Pro 2.3GHz Core i7 with Radeon HD 6750M (1G)
Wrap Up
If you are making the switch from PC or just upgrading a previous gen iMac you wont be disappointed as the everyday performance on the new Sandy Bridge series iMac is pretty much complaint-free from my perspective , and i made the switch from PC's after 15 + years and have not regretted a minute of doing so . The operating system OS X boots swiftly and apps load with no delay. You can have multiple browser windows open while simultaneously playing HD video and still be doing other tasks with no noticeable impact on the system.
For a first time user of OSX it has a very user friendly software update feature which looks for the most recent updates to all the software that is installed on your machine rather then updating titles individually like PC did ... It is also less prone to viruses due to the nature of the operating system but Apple are keeping on top of recent malware with a regular update to solve potential problems. While it is a very good professional machine it is still very capable of running the latest games either from Steam for MAC or under Bootcamp running a dual boot Windows O/S so in the end you can have the best of both worlds..
Even though it is a all in one unit and the best all in one of its class , it is also well and truly up their or ahead with the current range of PC hardware thanks to the power and technology it has under the hood. To put that in perspective the current gen iMac is faster or equal to across many task then the current gen 6 core Mac Pro this is a $4000 + machine . The only downside of being a all in one is it does lack the fuller upgradability factor that the larger chassis pc have . If you are not a regular upgrader and happy with the iMacs performance , style and convenience that Apple's sleek design offers it is certainly is a good all around machine that still packs plenty of power.
Apart from the new hardware in the iMacs they also sport a very modern operating system in OSX 10.6 Snow Leopard and even more so with the update of OSX 10.7 Lion coming in July. I think the windows management is a key feature in OSX with features like Expose , Spaces that gives the user a quick overall view of the running windows on their system and this is being taken to the next level under OSX Lion incorporating iPhone type gestures on the new magic trackpad.
So if you are in the market or soon to upgrade your machine i would definitely recommend you have a good look at the current Sandy Bridge range of iMacs because you wont be disappointed with their aesthetics , footprint or performance. Another important feature i like is how the Mac O/S seamlessly works with programs like itunes and photoshop and just doesn't feel as clunky as it did on the PC , this can be very important these days seeing the average user is more then likely to have a iphone or ipad or both in their household , this helps with better integration of all idevices and with the upcoming iCloud being able to sync and share information via a cloud based storage system that will work across all Mac devices. While they might not be to everyone's taste the Macs have certainly come a long way.
Pros
Attractive, sleek, and solid industrial design.
Quality IPS Backlit LED Display Panel
Firewire 800 and Intel Thunderbolt technology as standard
App Store built into the O/S
Modern operating system
Competitive pricing
Cons
Limits to the expansion / upgrade of system due to all in one design
No Blu Ray Drive
Screen might be to glossy for some users
SD Card slot and DVD slot very close together
SSD Hard Drives through Apple cost a small fortune
---
Information, benchmarks and pictures used in this review have come from multiple sources on the internet , listed are a few of them below…
Real World Speed Tests for Performance Minded Mac Users
AnandTech
Apple
Apple, Mac, iPhone, iPad, and iPod Reviews, Help, Tips, and News | Macworld
Mac Rumors: Apple Mac iOS Rumors and News You Care About