Hunger Games in Minecraft
by HenriDeacon, Hunger Games Architect for the Minecraft Division
You are scared and hungry, not knowing where your next meal will come from, or what dangers lay ahead. Every second counts as you scour the landscape for chests and maybe a weapon, or a quick death as you set off a trap. Every other player wants to bury you. Nowhere is safe, and even more dangers lurk in the darkness of night. Maybe form an alliance, but in the end you know they will be stabbing you in the back.
Hunger Games and Minecraft. What a perfect combination.
Since multi-player was added, Minecraft has been crying out for PvP options beyond the arena sport 'Spleef'. Recently there has been an explosion in the popularity of Hunger Games events. The build-up for each round is electric, with players eyeing off each other, standing in a circle around a horde of supplies and weapons. Do you risk rushing forward and fight for chests packed with weapons, items and food, or take a more defensive approach and head straight off into the bush. A player's knowledge of Minecraft plays an important role in surviving to the end.
So what are the Hunger Games?
The Hunger Games events originate from the books and film series by Suzanne Collins. It is a combat sport where 'Tributes' fight to the last survivor and face deadly challenges along the way. The Hunger Games can be described as controlled mayhem. In short, players scavenge for food, weapons and refuge while trying to stay alive in an environment patrolled by hostile mobs and other competitors. The last player standing will claim not only victory, but fame and riches. Hunger Games fans would know that these matches are designed for spectators to be right in the middle of the action.
Why play this in Minecraft?
There is currently no Hunger Games PC title, and Minecraft has therefore adopted the sport as its own. Very few other games could claim the ability to host a successful Hunger Games event. You are able to immerse yourself in the experience, and feel the drama unfold around you, including bow and sword combat. Minecraft has the ability to bring this combat sport to life. The mechanics of Minecraft's survival mode are suited to running enjoyable matches in a way which can be controlled, but also gives competitors a great deal of freedom in the way they play. The games have become a great social event for both players and spectators, with many Youtube videos and fan-made maps appearing.
What are the Rules?
Players begin with an empty inventory and gather at the starting area, known as the Cornucopia. Our contestants, known as 'Tributes', must stay within a marked area and cannot place or break most blocks apart from designated trees at Crafting Stations.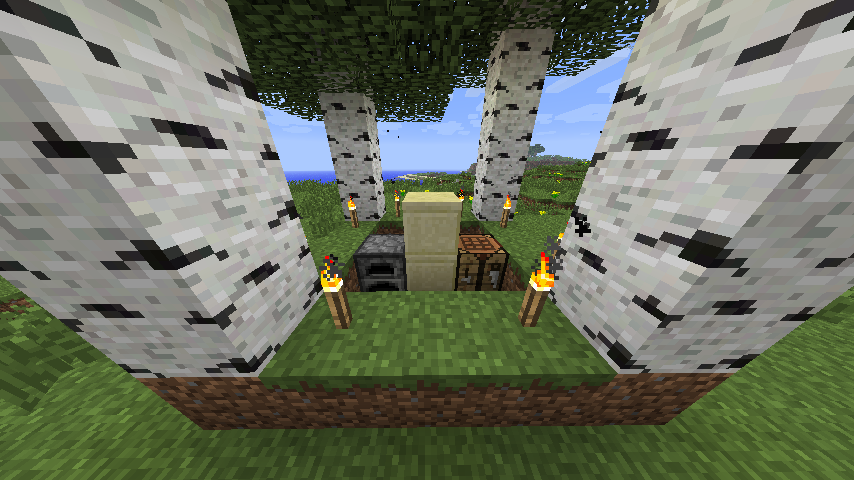 Each crafting station has a table and furnace for making tools, armour and weapons or cooking food. Players may hunt animals, gather mushrooms and apples, or may be lucky enough to be sponsored by a spectator. There are also chests of helpful items scattered around the playing area. The flexibility of Minecraft allows rules to continue to be modified to provide the best experience for the Tributes and Spectators.
I'm not good at PvP, would I still enjoy it?
From our experience, the events deliver a frantic combination of combat skill and pure strategy depending on the individual players' strengths. No one person dominates the matches, and the victors are not always the PvP specialists. The nature of the game has its own way of levelling the playing field, and every match the Division has played so far has resulted in a different winner. There is no way to predict how the match will progress, with over a dozen players running around you are sure to enjoy participating. Even if you're killed early you get to watch the remainder of the match up close. Even if you prefer not to play PvP, you can still participate as a Sponsor who gives encouragement and bonus items to worthy players, or have a front row seat as a spectator.
Why play Hunger Games with TOG?
Plenty of dedicated Hunger Games servers have been established, but what sets TOG apart is the friendly and respectful environment, and how our game mechanics, challenges and rules evolve after each match to enhance the game experience. A lot of our improvements are based on feedback from the TOG community. We pride ourselves on providing a more authentic Hunger Games experience, as we do not spam our Tributes with gifts. Everything is hard fought and well deserved. The games are played in good spirits but fiercely contested by our players. Our matches encourage crafting, rather than pure combat. Crafting in our matches is not a simple matter of cutting down everything in sight, as most blocks cannot be broken during the match. Most items are off limits and you must hunt and gather food before you starve.
TOG currently has a dedicated Mini Arena and Island for Hunger Games events. Each event has a theme like archery, which require players to use different Minecraft skills. Spectators are not left out. They are brought close to the action and eliminated players can 'sponsor' one of the remaining players with food and items. Our matches are very forgiving. If you are new and make a mistake, we get you back into the action with no fuss. The finalists are directed back to the Cornucopia so spectators get the best view of the finale.
Our starting area on Hunger Island, the 'Cornucopia'.
Children of active Minecraft Division members are encouraged to play and follow our normal server rules of respect and fair play. We do film some of our events, so you may even get to see your performance on Youtube. If you are a fan of the Hunger Games, or just want to try some PvP, there is no better Hunger Games experience than TOG Hunger Games.
How often are events held ?
Events are currently scheduled for every second weekend, with a new twist each time to keep players guessing. Keep an eye on the Division Calendar for dates and times, as we try to accommodate different time zones.
What's next for TOG Hunger Games ?
Future plans for the TOG Hunger Games include continuing to develop and expand our massive Hunger City, with many new challenges and traps. The City is a community project and involvement is encouraged from anyone on the server who wishes to be involved. We will eventually add a larger Colosseum-style arena for events. As Minecraft introduces new features such as tripwires, we will add them into our game-play.
Hunger City under construction
Our first matches have been intense and we are very excited to continue developing this new combat sport for our TOG Minecraft players and our Minecraft juniors.
May the odds be ever in your favour...