Battlefield 3 - out in 2011


Submitted by Binary-Ninja
Introduction:
Battlefield 3 leaps ahead of its time with the power of Frostbite 2 engine
Battlefield 3 will be the latest installment in the long running Battlefield franchise that originally started with Battlefield 1942 ....Battlefield 3 or (BF3) for short is a first-person shooter action video game, being developed by EA , Digital Illusions CE and to be published by Electronic Arts. It is set to be released in the Fall 2011 for the Microsoft Windows, PlayStation 3 and Xbox 360 Platforms.
Contrary to its name, it is the twelfth installment in the Battlefield franchise, and the true successor to Battlefield 2 (BF2) that was released in 2005.
Beyond the signature multilayer experience that everyone expects from the Battlefield series , the game developers have also included a full single-player campaign and a co-op campaign straight out of the box. As for fan favorite features, how does the return of jets, prone, and 64-player multi-player (on PC) sound? All this built with our powerful new game engine Frostbite 2.
Battlefield 3 leaps ahead of its time with the power of Frostbite 2 engine , this state-of-the-art technology is the foundation on which Battlefield 3 is built, delivering enhanced visual quality, a grand sense of scale, massive destruction, dynamic audio and incredibly lifelike character animations. As bullets whiz by, walls crumble, and explosions throw you to the ground, the battlefield feels more alive and interactive due to the real-time environment and weather changing effects..
In Battlefield 3, players step into the role of the elite U.S. Marines where they will experience heart-pounding missions across diverse locations.
Gameplay:
Battlefield 3 will feature the maximum packed combined arms battles that made the series popular across single-player
Battlefield 3 will feature the maximum packed combined arms battles that made the series popular across single-player, co-operative and multiplayer modes. It will reintroduce several elements absent from the Bad Company games, including fighter jets, the prone position and 64-player battles on PC. It looks at this stage their will be no commander role in the game that we had seen in BF2 but we are waiting to see what is done with squad leaders some say they will take on smaller roles of the commander more local to each squad ...
To accommodate the lower player count on consoles, the ground area will be limited for Xbox 360 and PS3. The jets and choppers on the other hand will have more flying space, and will have the ability to travel further outside the map boundaries.Battlefield 3 uses a new type of character animation technology called ANT. ANT technology is used in EA Sports games such as FIFA, but will now be used to create a more realistic soldier. Player models will appear more realistic with the ability to transition into cover and turn their head before their body.
While it is still in development stages what we know about the Maps are they set in Paris, Tehran, Sulaymaniyah and New York have been confirmed. As a whole, the game will cover urban streets, metropolitan downtown areas, and open landscapes suited to vehicle combat. Expected factions include the US military, Middle Eastern Coalition, China, and/or Russia. Their is expected to be either 4 or 6 classes for multi-player but still waiting on that confirmation , these will be a mix of Assault , Spec Ops , Medic , Engineer , Support , Sniper .. but we wont know if they combine some roles so we only have 4 classes…
The single player campaign takes place in the year 2014 . You will play as Sgt Black, part of a four-man squad in a city on the Iran/ Iraq border, patrolling the streets for insurgents. As if that locale wasn't unstable enough, it's also built on a fault-line. And it's a towering, glittering city, not the dusty, clichéd Middle East tips we're used to seeing. Cast in high contrast blueish light, it's gorgeous.
Black's squad winds through the city listening to Johnny Cash's 'God's Gonna Cut You Down', proving that DICE are effortlessly cool. They disembark from their APC, and are following orders and cutting through alleys when a tremor shakes dust loose from the surrounding buildings.
Expected Hardware Requirements: courtesy of ENTERBF3.COM
While no official announcement of minimum requirements for Battlefield 3 have been made, we do know what engine the game will be running. Frostbite 2.0. Because of this we can estimate what requirements will be expected when Battlefield 3 hits shelves. I have also added / edited what i think will be suitable hardware.. I would be looking at the recommended as minimum specs as with most modern games to get the most out of a game like BF3 , due to the engine and its vast map sizes .. BF2 in its day pushed the boundaries of game graphics and i expect no less from BF3.
Minimum System Requirements
Processor: Dual Core
Memory: 2 GB - 4GB
Hard Drive: 15 GB for Digital Version, 10 GB for Disc Version
Video Memory: 256 MB
Sound Card: DirectX Compatible
DirectX: 10
Keyboard and Mouse
DVD Rom Drive
Recommended System Requirements
Processor: Modern Quadcore Processor ( Intel i5 , i7 & Sandy Bridge , AMD X4 or X6)
Memory: 4 GB - 8 GB
Hard Drive: 15 GB for Digital Version, 10 GB for Disc Version
Video Memory: 512 MB - 1 GB Mid to High end video cards
Sound Card: DirectX Compatible
DirectX: 11
Keyboard and Mouse
DVD Rom Drive
Platforms / Player Numbers :
The Limited Edition version of the game will include special download content titled Back to Karkand
PC - 64 Players
Xbox 360 - 24 Players
PS3 - 24 Players
The Limited Edition version of the game will include special download content titled "Back to Karkand", this will include 4 maps remade from BF2, including the iconic Strike at Karkand. The "Back to Karkand" DLC will be released as a downloadable add-on a month after the release of BF3 for other players who didn't buy the Limited Edition.
Gameplay Footage:
Watch 12 minutes of gameplay from Battlefield 3 Fault Line map

Join us as we follow Staff Sgt. Black and his team of U.S. Marines into the bad part of town, as they move to the rooftops to eliminate an enemy sniper in an abandoned hotel.
This in-game footage from Battlefield 3 shows off the ANT animation technology in all its glory and as the explosive finish to the Battlefield 3 Fault Line series draws near, Sgt. Black is tasked with disarming a home-made bomb, leading to first-person melee combat with the bomber and a large-scale firefight in the streets against massive opposition.
Screenshots:

Staging Area where Dave works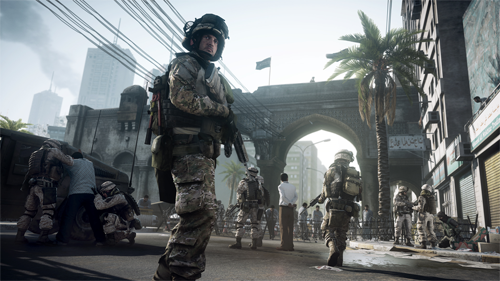 Dragging teammate to cover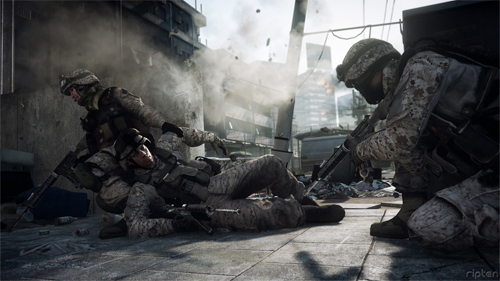 Destruction 3.0 killing sniper with rocket launcher / collapse hotel

Dynamic Lighting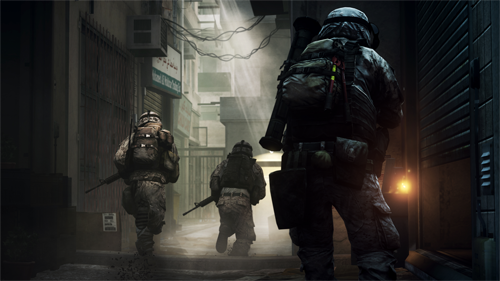 Laying down some fire

Inside shot of plane cockpit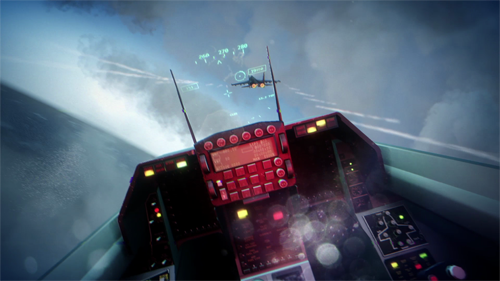 Gamers Expectations:
Following on from a article in the March edition of PC Gamer magazine the BF3 community has asked the question what do you want to see in Battlefield 3. And they have a list their is probably more but i have highlighted the major ones players want to see addressed.
10 Things I want to see in BF3
Large Maps
Large Player Numbers (64 PC)
Team Work based play
Hierarchy , Leadership roles
Working VOIP Client
Strong Anti Cheat Client
A Balanced Battlefield no aircraft spam on infantry
AA Guns / Launcher to take out Aircraft
Limit Kit Numbers so the whole team isn't sniping
Weapon Certification / Training as path to unlocks
Good Patch support from Game Devs
Note:
All of the above Battlefield 3 game information , pictures and footage or other details for this game preview has been gathered from many various sources across the internet that are covering BF3 thank to all ..... I have a few quick mentions below ..
http://www.pcgamer.com
http://www.gameinformer.com/
Battlefield 3 - BF3
Battlefield 3 : BF3 - EA
Battlefield 3 - Wikipedia, the free encyclopedia