STO: Bajoran Militia Uniform Now Available!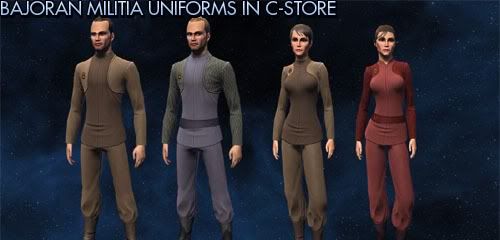 The iconic uniforms used by the Bajoran Militia in Star Trek: Deep Space Nine are now approved for use by Starfleet officers! This costume pack includes two jackets, pants, a belt, two boot styles, a Bajoran combadge and a full range of rank insignia. Note: Costume pieces from this pack may be used only in uniform costume slots. Purchase of this pack unlocks these costume piece for every Federation character on an account.
The Bajoran Militia Uniform is available from the C-Store for 240 Atari Tokens.