STO: Cloaked Intentions Episode 4 now available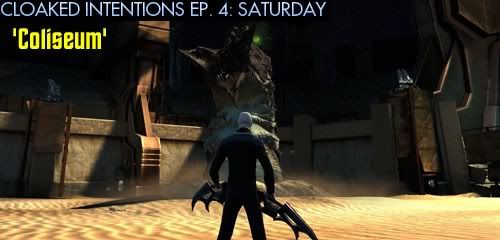 The 4th episode of the 'Cloaked Intentions series' has been released. Appropriately named "Coliseum", the episode is primarily a ground mission. The mission starts out slow but a quarter of the way into it, the excitement level takes a sharp climb upwards. During the mission, new Melee weapons will be made available to the players, including a sword! Personally, this author thinks this is one of the most fun ground missions he has ever played in this game.
'Cloak intentions' is the 3rd Season of feature episodes which began in late august 2010 with 'The Breen' series and followed by 'The Devidians' series.
Feature Episodes are basically weekly released episodes that are grouped into series and are tied closely together to comprise one story arc. They're available to players of any level in both factions at no cost.
New feature episode debut on Saturdays at 11 a.m. Pacific and remain available indefinitely for any character of any faction. You must complete the first episode before you can move on to the next. One of the most unique aspects of these episodes is the rewards you received from completing them. They range from Breen Grenades to Prototype Reman Ship Shields.
The current series deals with internal conflicts within the Romulan Star Empire that threaten the quadrant. The 3rd season also uses ingame cutscenes during the missions themselves. This gives the players a look at the upgrades the game developers at Cryptic Studios have planned for the original campaign missions.