STO: OBerth Ship Now Available!
First used by Starfleet as a science ship and scout vessel in the late 23rd century, the Oberth class was phased out of service before the Dominion War. Recent improvements in modular ship construction and shield design have made the ship design viable for Lieutenant-rank missions. The Oberth has three weapon slots (2 fore, 1 aft) seats for three bridge officers (Ensign Engineering, Ensign Science and Ensign Tactical) and space for four console modifications (1 Engineering, 2 Science and 1 Tactical). It carries a crew of 80, and has a Enhanced Plasma Manifold console. This universal console may be placed in any console slot and when activated provides a short-duration increase to auxiliary and shield power levels, as well as repairing disabled auxiliary and shield subsystems. The Enhanced Plasma Manifold can be transferred to any other Federation vessel. Note: Purchasing this ship from the C-store unlocks it for all Federation characters on an account.
This is another starter ship for the Federation faction. The ship was first seen in Star Trek III: Search for Spock where the U.S.S. Grissom was sent to evaluate the Genesis planet before being destroyed by a Klingon Bird-of-Prey. The more unique aspect for this starter ship is the universal console that comes with the ship. It is transferable to another ship and will give that ship the Enchanced Plasma Manifold ability.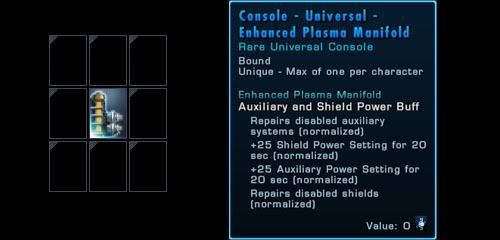 The Oberth is available at the C-Store for 800 Atari Tokens.