STO: TOS Bundle now available!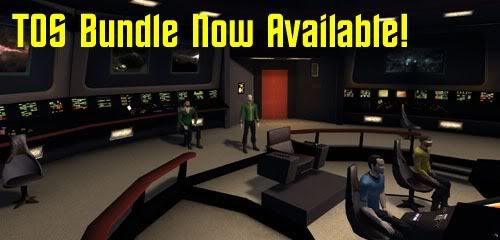 The Original Series Value Bundle is now available for 1400 Atari Tokens from the ingame C-Store.
The pack includes:
-The Federation Starship Interior: The Original Series
-The Federation Bridge: The Original Series
-Access to the Federation Shuttlecraft Class F with pet
-A black-and-white TOS-style Type 2 Phaser Variant that increases in effectiveness as you level.
For a limited time the TOS Value Bundle also includes 3 Federation Costume Packs:
-TOS Dress Uniform
-TOS Medical Uniform
-TOS Command Tunic
The TOS Ship Interiors


True to the original Star Trek series, the TOS Bridge and Interior matches the deco and sounds of a starship in the 22nd Century. All the familiar places seen in the original TV series like the conference room, sick bay, engineering, lounge and bridge are available in this pack. The game developers was able to create a bridge more appropriate in scale than their previous rather overly spacious bridges.

The bridge doesn't have a captain's ready room just like the TV series. Players will have to travel to the crew quarters and visit the conference room to do what they would normally do in their 24th century ready room.

Even the crew wondering the corridors and manning their posts are appropriately dress to fit the environment.
The Class F Shuttle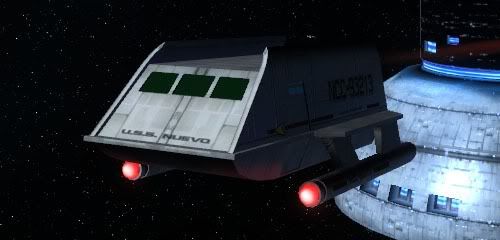 The Class F shuttle features a reinforced hull that scales in strength as you level, 2 forward weapons slot, space for three console modifications (1 Tactical, 1 Engineering, 1 Science) and a seat for a Bridge Officer (Ensign Universal).

It carries a crew of five and is equipped with a TOS-style blue phaser bank with a 360-degree arc of fire and a photo torpedo launcher that increase in effectiveness based on your level. Players purchasing the Class F shuttle also get a non-combat Class F pet that can be launched from their starship.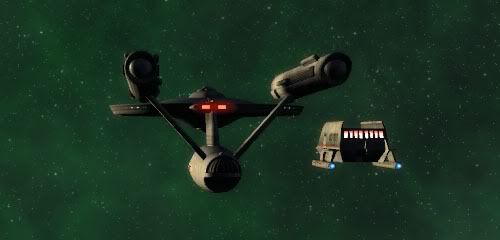 The TOS Costume Packs


The three costume packs offer the players the TOS outfits that were not available in the earlier two packs. These packs covers the federation dress uniforms of the 22nd centuries, the short sleeves tops and nurse uniform of the medical team, and the command tunic that is often worn by Captain James T. Kirk. While part of this bundle for a limited time offer, these packs are available separately for 240 Atari Tokens each.
The TOS-Style Type-2 Phaser


The black and white variant Type-2 Phaser is a standard single handed handgun with kill and stun settings. The weapon increases in effectiveness according to your character's level. Once purchased, a player can claim as many phasers as he wish to outfit his entire crew.
More Screenshots of the TOS Interiors: